Call Gage-Lab Products today for all your force and torque measurement needs. (801) 716-2972



Gage-Lab Products is partnered with Mark-10 to bring you quality
Force and Torque Measurement Products
.
Contact us
today to find the right tool for your project.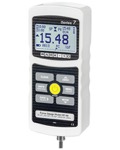 FORCE GAGES
With the broadest force range in the industry (capacities from 50gF full scale to 2,000 lbF), Mark-10 offers digital force gages for all applications. Mark-10 force gages measure real time and peak forces in both compression and tension and have selectable units of measurement. These gages may be handheld or used with a force test stand for a complete testing solution.






TORQUE GAGES
Mark-10 offers accurate torque gages that capture real time and peak torque in both clockwise and counter clockwise directions. Units are available for a wide range of torque applications, with capacities available from 10 ozFin full scale to 5,000 lbFin. These gages have selectable units of measurement and may be handheld or used with a stand for a complete torque testing solution.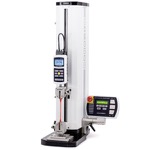 MOTORIZED TEST STANDS
Mark-10 carries a wide range of motorized force measurement and torque measurement test stands. These test stands include advanced functionality, such as pull to break, cycle, preload, maintain load, and PC control. Motorized stands offer the benefit of constant test speed, which produces more consistency over manual test stands.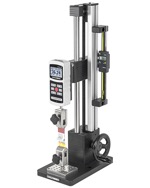 MANUAL TEST STANDS
With a wide range of configurations available, Mark-10 offers the industry's most extensive line of manual force measurement and torque measurement test stands. Test stands eliminate the the inevitable variability that occurs with hand testing.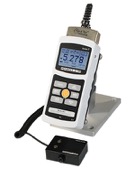 FORCE/TORQUE INDICATORS & REMOTE SENSORS
With the Plug & Test
®
technology, Mark-10 offers a series of indicators with interchangeable force and torque sensors (sold separately). There are three indicator models available, with force sensors with capacities from 0.25 to 10,000 lbF (1 N to 50 kN) and torque sensors with capacities from 10 ozFin to 5,000 lbFin (7 Ncm to 550 Nm). This wide range offers a solution for every project.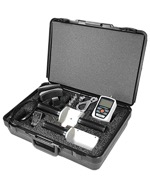 ERGONOMICS KITS
Mark-10 offers ergonomics kits for industrial ergonomics and job task analysis. Ideal for strength assessment, ergonomic studies, and workplace design, available capacities range from 100 to 500 lbF (500 to 2,500 N). These kits include forge gage, handles, padded attachments, and accessories.