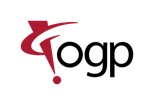 Please call Gage-Lab Products today to find a machine that fits your needs. (801) 716-2972



ShapeGrabber
ShapeGrabber 3D Laser Scanning systems deliver fast, accurate and automated 3D measurement. The ShapeGrabber is ideal for measuring complex shapes such as molded plastics, castings, stampings, and machined parts and that are time-consuming, costly, and difficult to measure. Using multiple motion axes, ShapeGrabber laser scanners eliminate the need for software alignment and registration and ensure fast, accurate results.
ShapeGrabber automated scanners are well suited for situations in which speed and ease of use are important. These systems scan parts in a wide variety of materials, colors, and finishes and excel in rapid prototyping, manufacturing, quality control, and reverse engineering applications.
All ShapeGrabber 3D Laser Scanning systems share the ability to produce detailed surface characterizations of complex parts, quickly, and accurately. They are all easily programmed for repetitive part measurements, with no need for software alignment and registration. All ShapeGrabber systems collect accurate, high density point data, and provide reports of results, including GD&T.
ShapeGrabber systems are available in three models to match part size and configuration.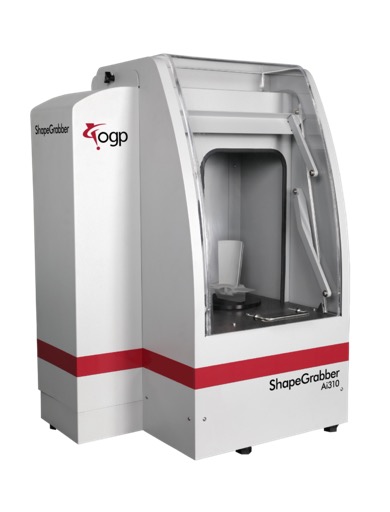 Max Scan Volume (mm)

Standard:

300 L x 190 Ø with SG156 Scanhead


ShapeGrabber Ai310
automated 3D scanners bring speed, accuracy, ease-of-use and complete coverage to industrial 3D measurement and inspection. Using multiple motion axes, Shapegrabber scanners eliminate the need for software alignment and registration and ensure fast, accurate results. Our automated 3D scanning solutions are ideal for situations in which speed and ease of use are important.
As a fast, accurate 3D scanner, Ai310 helps manufacturers improve product quality and compliance without slowing down production. Ai310 automated scanners provide:


Ease of use –
No need to write special code to scan each object

Speed –
Fast and simple to scan a part without complicated, time-consuming orientation and alignment processes

Efficiency –
Significantly reduce the time required to completely scan a shape, reducing the cost associated with executing the job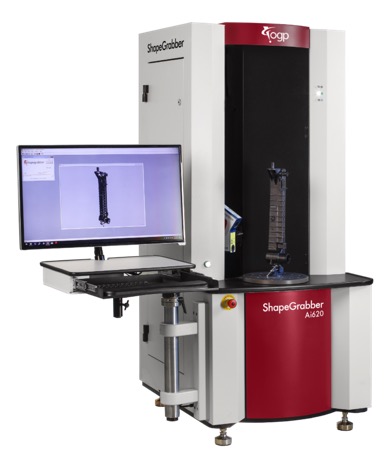 Max Scan Volume (mm)

Standard:

600 L x 185 Ø with SG198 Scanhead


ShapeGrabber Ai620
3D scanner is a precision, metrology-class 3D scanner. Ai620 measures the complete surface of complex shaped plastic, metal, and 3D printed parts in minutes with a high density of data points.
Ai620 is easy to use and highly automated. After an initial scan, the same scanning parameters may be used for subsequent parts, delivering consistent results irrespective of operator skill or experience. There is no need to write special code. ShapeGrabber Ai620 offers:

Faster Speed –
When used at its maximum scan volume, the sg198 scanhead measures data at 155,000 points per second. For parts that do not require the full scan volume, the data rate increases to more than 1.5 million pts/s. Optional 25° tilt mechanism for faster, more complete part coverage without part reorientation.

Better Data Quality –
The sg198 scanhead features an optical arrangement that draws on OGP's 75+ years of experience designing optical systems for precision measurement. The sensor optics provide extremely low noise data that far outperforms other 3D scanning technologies.

Higher Resolution –
The built-in 5MP imager delivers depth resolution and data densities for the most challenging applications. The combination of such high resolution in a relatively large volume makes the entire process of measuring complex shaped parts faster and easier

Wider Dynamic Range –
ShapeGrabber scanheads offer high dynamic range, accurately measuring a wide variety of materials, colors, textures, and finishes without the need for surface treatments. The sg198 scanhead handles the full range – from matte black plastic, to bare metal, to grainy castings and 3D printed parts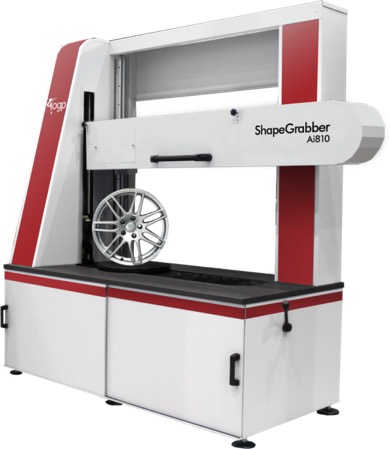 Max Scan Volume (mm)

Standard* Vertical Axis

800 L x 400 Ø with SG356 Scanhead

ShapeGrabber Ai810
3D scanners are ideal for quickly scanning parts that vary in size and shape. With Ai810, users can reduce inspection time and greatly enhance part coverage while increasing customer satisfaction by reducing defects and providing proof that specs are met.
Rapid and efficient inspection scans also reduce production equipment downtime, material waste, and human inspection error. ShapeGrabber Ai810 offers:

Complete, fast turnkey measurement and inspection solution

Precision, non-contact laser scanning

Automated surface inspection in minutes

Multiple scanhead configurations to accommodate a range of part sizes

Ideal for castings, plastics and 3D printed parts or parts with complex shapes

Scans parts in a wide variety of materials, colors, and finishes
*OPTIONAL horizontal axis
1250 x 345 x 400 with SG356 Scanhead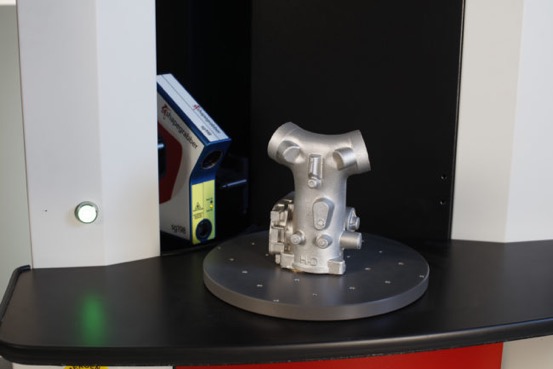 SHAPEGRABBER SCANHEADS

Laser line scanning is a non-contact, non-destructive technology that uses a 3D optical sensor (also called a scanhead) to digitally capture the size and shape of objects using a line of laser light. This is quite different from other OGP laser scanning technologies which use a laser point sensor that is traversed across a surface. Both techniques create "point clouds" of data from the surface of an object, but laser line scanners do so much faster and typically with a higher point density.
Traditional laser scanning with a point sensor moving across a surface acquires data over the period of time it takes to complete the scan. With a laser line scanner, however, coordinate point data from the entire line is processed simultaneously. When objects larger than the field-of-view of the scanhead are presented, multiple line scans in sequence are by necessity merged together.
All ShapeGrabber 3D scanners are sold as complete systems that include the appropriate scanhead for measurement needs.








Increase your machine's performance with the right fixtures